Terabyte Technology Web Design
A Year in the Life of a Specialist Fitness Professional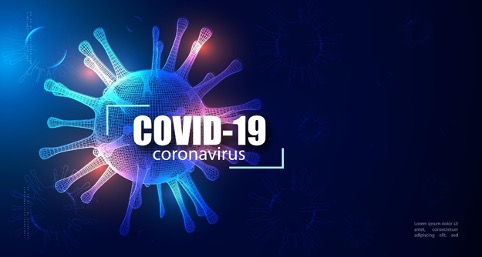 2020, started well for me, despite returning from Morocco with traveller's diarrhoea! A few days lying on the couch, soon saw me back to work on January 13th. My full time work consisted of 4 busy days, either several home visits or a couple of classes, per day. My "rest" day was a Wednesday, allowing me to exercise during the daytime and teaching a Core Strength class in the evenings.
At this point in time, the strange "Chinese virus" was talked about on the news but didn't seem to be a threat in the UK. It wasn't until late January that the reporters upped their reporting and news came in of skiers contracting the virus in the Alps and spreading it across the EU.
February passed by with threats of a Lockdown and people being advised to stay at home, wash their hands & not to touch their faces!
However, by mid-March, True Lockdown began. All of my classes ceased to meet up, schools were closed from 20th March, Hospitality was told to shut their doors and most sporting events were cancelled. As a freelance Specialist Instructor, I was only allowed to do 1-1 outside exercises.
Spring gave us incredibly sunny days, so I was able to walk my clients or exercise in their back gardens. I was fortunate to take on more 1-1 clients due to the fact that Physiotherapists were not doing home visits, thus my looking outside the box, gave me the ability to continue physiotherapy based exercises outside.
Early April saw the inception of my online Stroke exercise videos and weekly Blogs, which lasted 6 months! I also set myself a 26 day Challenge - 26 exercises, per day adding another 26 exercises or repetitions, per day for 26 days! - a total of 676 completed on 26th April. I raised £500 for my Stroke groups.
Summer passed by, with me walking or exercising outside on a 1-1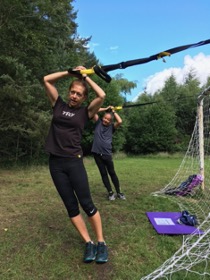 basis…..the days and weeks seemed to merge into one long isolation camp! I was fortunate enough to teach 1-1 TRX classes outside in a local kick about, enjoying the sunshine and getting some much needed Vitamin D!
On September 18, 2020, I returned to classes: 2 Stroke groups, Falls Prevention, TRX and Core Strength. It was a lot of preparation, ensuring that the Centres & Halls were happy with my Risk Assessments. One of my Stroke groups had to be split up into two, due to social distancing measures.
Two things struck me on the return to classes. One, everyone wanted to return, even the most vulnerable. I believe this was because I had taken the time to keep in touch via phone or email and that I informed them of my Risk assessments. They trusted me to deliver a safe, Covid-19 free environment, while teaching socially distanced sessions. Secondly, I saw a huge deterioration in many of my Stroke client, which reinforced the need for weekly exercise classes, face to face.
It was a great relief to get back to work, hear the banter, take the micky out of me!……we all seemed to miss this, me included!
We were able to continue to meet up for 3 months, until Nicola put Aberdeenshire into Tier 3. It was inevitable that this was going to happen as local Care homes now had huge numbers of Covid-19 cases.
My last indoor 1-1 client was on Friday 18th December, 2020. He complained of a tickly cough…….little was I to know this was the start of Covid -19……
NEW YEAR 2021
The New Year in Scotland saw us in Tier 4 (enhanced). For me it was just like returning to March of last year, only the weather was much worse! I flung myself into cycling, usually on the mountain bike as this gave me a harder workout, with thicker tyres to combat the snow and ice. We have had nothing but ICE for 2 weeks now! Even my 3 walking clients cancelled, unsurprisingly.
………….my tickly cough client phoned me on Tuesday 5th January. His cough was now persistent. I encouraged him to get it seen to, but he is a stubborn creature! To cut a long story short his private carer had Covid-19, passing it onto my client, who was now in hospital.
I was furious, not only had the carer failed to wear a mask and gloves during her visits (unlike me) she had passed it onto my vulnerable stroke client and put her other clients at risk along with myself.
Neither carer, client or test & trace contacted me to inform me of the situation. I am not a keen fan of Matt Hancock, but his words do ring true "It is individuals making the wrong decisions, that are putting lives at risk."
I have learnt a huge lesson from all of this - I can not control other people's actions inside my client's houses - it will be a long time yet before I am willing to enter someone's house. In the future I may have to insist that my client's and myself are vaccinated before restarting my home visits?…………..
January 2021